De-stress, foster balance and promote enjoyment through Classical Yoga

April Yoga Schedule and Daily Challenge
It is time to continue our efforts toward a healthy 2021! Classical yoga instructors have teamed up to offer daily timeslots and options for the month of April. Come as often as you like, Its Free!
For those ready for the next level, we are issuing a daily yoga challenge: Take a yoga class a day or destress with a mindfulness session or laugh away with a laughter yoga class during the month of April. This is a wonderful way to experience first-hand the benefits to mind, body and spirit of a regular practice, in your own home, during pandemic restrictions. You will feel physically and mentally stronger, and more socially connected to your classmates and teachers.
April Yoga schedule
*Please click on names below for link to join session
Monday

Tuesday

Wednesday

Thursday

Friday

Saturday

Sunday

7:30am - 8:30am

(Simi)

(Simi)

(Simi)

(Simi)

(Simi)

8:30am – 9:25am

 

 

 

 

 

 

Gillian
(Mindfulness and Meditation)

    9:30am -           10:30am

 

 

 

 

 

Except April 17

 

April 17

 

Except April 11

 

 

11am -12pm

 

 

April 11

12pm - 1pm

Kanwal
(Mindfulness and Meditation)

6pm - 7pm

(Mindful Mondays)

(Tuesday Mindfulness)

 

 

 

 

 

7pm - 8pm

(Laughter Yoga)

(Mindfulness)

April 8, 29

 

(Laughter Yoga)



                                        *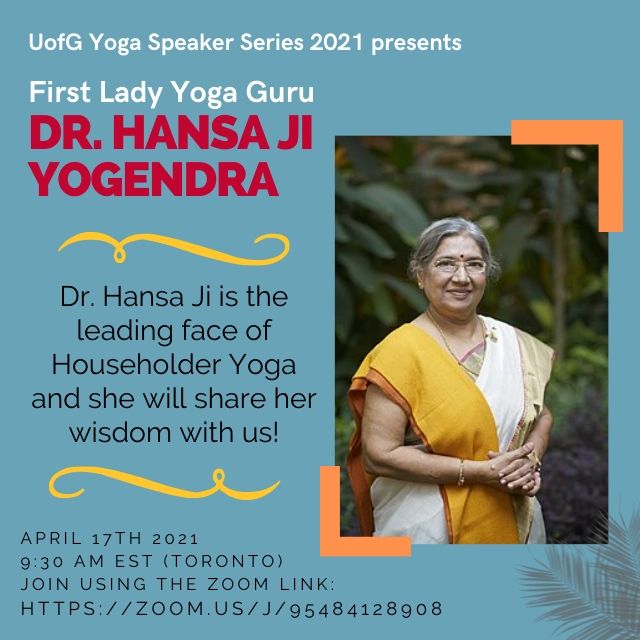 *
Classical Yoga Combines breath, movement and meditation with the aim of total health and well-being. It gently promotes physical strength and flexibility while improving concentration, steadiness and calmness of mind. The result is decreased stress and increased inner strength and joy. Classes will include physical practice (asana), breath work (pranayama), and right thinking (bhava), and a basic introduction to core concepts of yoga philosophy as we strengthen, mind, body and spirit. Any age, any fitness level can participate!

About the Teachers: Our teachers received their training at the Institute for Classical Yoga and Therapy in Brampton Ontario. This traditional yoga dates to the time of Patanjali's yoga sutras as taught by the Yoga Institute in Mumbai, India http://theyogainstitute.org/.

Lalit Jairath is an advanced Classical Yoga teacher, who has been teaching at the University of Guelph for over a decade. Lalit attributes the huge shift in his mental, emotional, physical, social and spiritual health and awareness to his daily practice. He is deeply interested in the Yogic Lifestyle and the transformative effect of Yogic/Sattvic/Pranic Foods on mental and physical health and disease. Now an IT specialist, Lalit first trained as a Vet and an Animal Geneticist. Lalit loves to fly kites and hike.
Upinder (Simi) is a Certified Classical Yoga teacher. Upinder began teaching daily classes in June 2020 to support friends and family through the pandemic and has offered a class every day since. An Engineer by profession, running a Tech start-up, and a mother of three, Upinder finds that yoga helps her find balance in her busy life. Upinder has a longstanding passion for yoga & mindfulness, and has been practicing for the last 10 years. Upinder loves hiking, reading, cooking and travel. 
Kanwal is a Classical Yoga teacher and has trained in Mindfulness Based Cognitive Therapy and wants to do his bit to help people with these and other experiential methods.
Gillian Mulvale is an advanced Classical Yoga teacher. Gillian has a keen interest in how traditional spiritual teachings intersect with meditation, mindfulness, and yoga to promote mental health and well-being. Gillian has been practicing yoga since 2009, and has taught yoga classes part-time since 2013. Gillian teaches health policy at McMaster and her research program aims to improve mental health policy and service delivery. She loves to garden, swim, ski, bike and craft stained glass.
Cary Rodriguez has had a personal yoga practice for many years and became a Classical Yoga teacher in 2011. Cary has taught classes to her co-workers for the last 3 years. While her aim when starting classical yoga was primarily to improve her physical health, Cary now loves the yogic lifestyle, philosophy and everything related to yoga. Cary is a health care worker who loves nature, the outdoors and being near water (especially on a beach), which relaxes her mind and body. 
Prabha Makayee is a meditator and mindfulness practitioner for the past ten years.She conducts free mindfulness/motivation sessions at local libraries , Teen , Senior And Community Centers.  Some topics that she addresses are : Being the Boss of yourself, Attitude of Gratitude, Heel the Mind- Heal the Mind, Turning Obstacles to Opportunity, Happy and Sad are Choices. Using the One Second, One Thought, One Breath practice of checking , choosing and changing our mindset , we can transform ourselves from being reactionary  and victimized to a spontaneous space of responsive, sensible, and self- empowered Being. She is also a Special Education Paraprofessional.
Kathryn Kimmins is a leading authority on the benefits of Laughter Yoga and is known for her energetic, entertaining and content-rich programs. For the past 10 years, she has taken her passion for this unique craft to businesses and organizations, individuals and groups. Since covid started she has been using virtual formats such as ZOOM throughout Canada, the United States and internationally. As a Certified Laughter Yoga teacher, and Laughter Ambassador of Canada, Kathryn understands how laughter can be used to heal the body, mind and spirit connection. Within minutes, without telling one joke, she'll have you tapping into your innate & infinite child-like spirit, and increasing your happiness potential through her Awakening to the Happiness Journey Series.