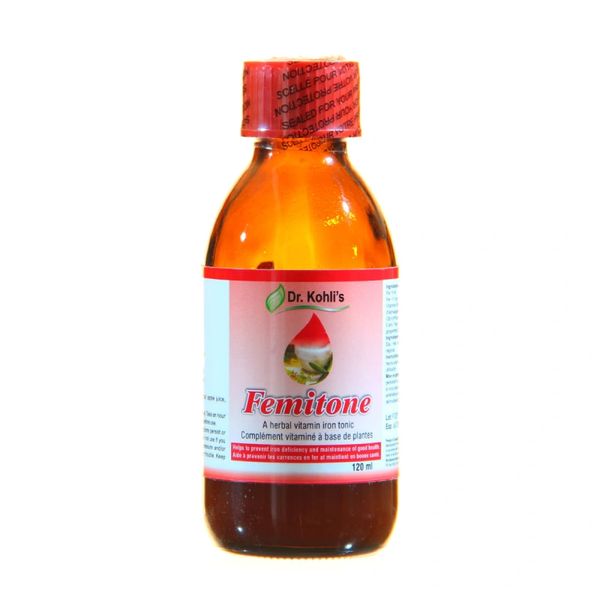 Femitone Tonic 100 ml
Dr Kohli's Femitone is an unique herbal Iron and vitamin tonic balanced with range of herbal extracts for Maintenance of good health and beauty. This tonic is non-constipating and has a good taste.
More info
Dr kohli's Femitone is formulated using the most easily absorbed form of iron known i.e. ferrous Gluconate and is less likely to cause intestinal side effects it contains wide range of B Vitamins (B1, B2, B6 and B12) which helps releasing energy from food , Vitamin C to help the body absorb iron and unique blend of herbal extracts to support the body's ability to build red blood cells and purify its precious blood supply and vitamin-rich fruit concentrates are added in this formulation to maintain proper stomach acidity.
Direction of Usage:
Shake well before use.
Adults (12 and over): Take 2 teaspoons, twice daily with meals. Take an hour before or after taking other medications
Ingredients:
Medicinal Ingredients-
Ferrous gluconate
Vitamin C
Vitamin B1
Vitamin B6
Vitamin B12
Folic Acid
Ashwaganda Root extract
Licorice root extract
Sweet Fennel seed extract
Dandelion flower extract
Ginger extract
Non – medicinal agents
Water , honey , alcohol , apple juice/ orange juice, grape juice, rosehips
1. Ferrous Gluconate – It is most absorbable and tolerated form of iron and it is less likely to cause any intestinal side effects.
2. Vitamin B1 (thiamine) – all the b vitamins help to convert food into glucose to produce energy . Thiamine is considered an "anti-stress" vitamin because it may strengthen the immune system and improve the body's ability to withstand stressful conditions
3. Vitamin B6- It plays an important role in maintaining the nervous and cardiovascular systems as well as the muscle tone of the gastrointestinal tract. The B vitamins are also vital for energy production.
4. Vitamin B12- It is also used to treat vitamin B12 deficient anemia and is found mostly in older people.
5. Vitamin C- The use of vitamin C in prevention/treatment of the common cold and respiratory infections. It helps in absorption of iron in the body.
6. Folic Acid – It helps to regulate the formation of red blood cells in the body
7. Dandelion Root extract is known for keeping the internal organs clean and clear. As a blood purifier, Dandelion is considered an excellent treatment that cleanses poisons from the body. Through its action both on the liver and kidneys, it gently eliminates toxic wastes from the body
8. Ginger Root extract- has been used to cleanse the body of toxins through the skin by stimulating and increasing perspiration and has also been useful in breaking fevers. It is slightly diuretic and further cleanses the body by strengthening kidney function and increasing kidney filtration.
9. Ashwagandha root extract- has been proven to help increase the red blood cell count naturally when taken regularly.
10. Liquorice root extract – it may be beneficial for aplastic anemia. Liquorice is known to increase the energy .Calms fatigue and allergies.
11. Sweet fennel seed extract- Iron, and Histidine, an amino acid found in fennel, are helpful in treatment of anemia. Where iron is chief constituent of haemoglobin, Histidine stimulates production of haemoglobin and also helps forming other components of blood.
12. Rose Hips contain an extraordinary amount of vitamin C, which is most beneficial for the prevention and treatment of infection and a great many common diseases, including the common cold, flu. Rose Hips help to strengthen body tissues, build and maintain a healthy vascular system and prevent damage to fragile capillaries