Kairfoll Anti Hair Loss Conditioner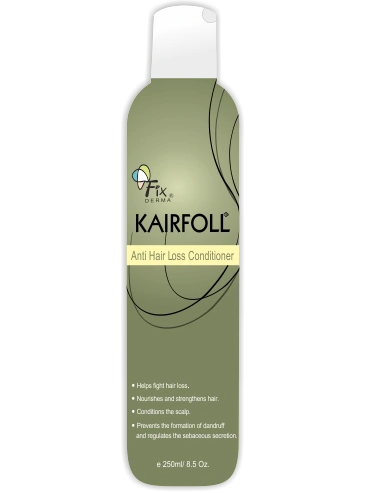 Kairfoll Anti Hair Loss Conditioner
Kairfoll Anti Hair Loss Conditioner used in conjunction with Kairfoll Anti Hair Loss Capillare Lotion
vials proves to be very effective in fighting hair fall.
ATTRIBUTES
Helps fight hair loss

Nourishes and strengthens hair

Conditions the scalp

Prevents the formation of dandruff and regulates the sebaceous secretion
KEY INGREDIENTS
Hydrolyzed Quinoa Protein: Quinoa the newest source of plant proteins penetrates the hair
shaft for powerful protection & repair. It also conditions & provides smoother look to hair.
HOW TO USE IT
Apply directly to wet hair, leave on for a minute and rinse.
Apply an ampule of Karifoll Anti Hair Loss Capillare Lotion to dry hair for optimum results.