Kairfoll Anti Hair Loss Shampoo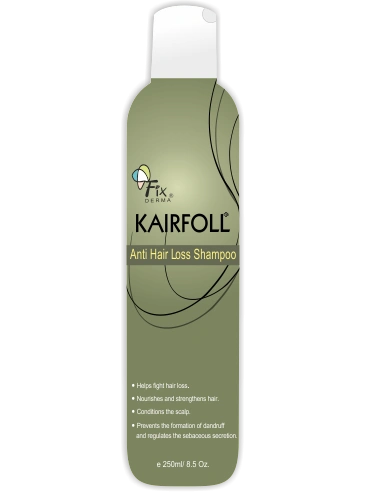 Kairfoll Anti Hair Loss Shampoo
Kairfoll Anti Hairloss Shampoo used in conjunction with Kairfoll Anti Hair Loss Capillare Lotion
vials proves to be very effective in fighting hair fall.
ATTRIBUTES
• Helps fight hair loss.
• Nourishes and strengthens hair.
• Conditions the scalp.
• Prevents the formation of dandruff
and regulates the sebaceous secretion.
KEY INGREDIENTS
Pronalen Fibro-Actif (Germs of Soy and Wheat Protein)
Biotin
Calcium pantothenate
Methionine
Cysteine
Inositol
HOW TO USE IT
Apply directly to wet hair, leave on for a minute and rinse.
Apply an ampule of Karifoll Anti Hair loss Capillare Lotion to dry hair for optimum results.