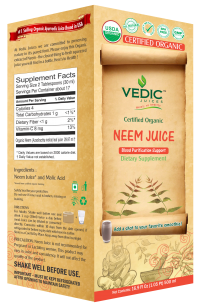 NEEM 500 ml
Just what your body deserves. Here's to Health!
Neem is an evergreen tree, native to India and Pakistan. It grows in tropical and semi-tropical regions. The tree reaches a height of 50 to 70 feet. The flowers are small and white with a sweet smell while the fruit is yellow to greenish yellow in colour and elliptical to almost round in shape having a single seed.
The tree lives for over 200 years.
Neem is being used extensively in traditional Indian medicine and Ayurveda for almost 5000 years. Reference to the qualities and uses of Neem are found in ancient Unani texts and ancient Sanskrit Puranas, some of which have been written as far back as the 4th A.D.
The neem leaves contain Quercetin which is a flavonoid, Beta-sitosterol, a steroid and various liminoids like nimbin and its derivatives.