Strallium Stretch Mark Cream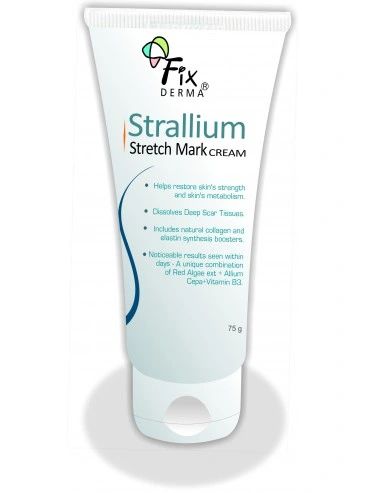 Strallium Stretch Mark Cream
A revolutionary new skin care cream that has been designed to help remove the unsightly stretch marks from your body. 
Its designed to minimize the prominence, severity, and visibility of the stretch marks on the skin surface.
Smoothens and firms the skin, perfect for use during and post pregnancy.
'Osmogeline' an extract of red algae helps revitalize stressed, skin within few days. 
It reduces redness, improves and evens skin tone, and gives skin a soft and smooth appearance.
ATTRIBUTES
Dissolves Deep Scar Tissues

Includes natural collagen and elastin synthesis boosters

Noticeable results seen within days - A unique combination of Red Algae ext + Allium Cepa+Vitamin B3.
KEY INGREDIENTS
Osmogeline-0.5% the skin equalizer
Allium Cepa-10%
Vitamin B3-2% (Water soluble vitamin) Skin Lightening
Aloe Vera-10% Astringent and Soothing
Almond Oil-2% and Honey Skin Hydration
HOW TO USE IT
Fixderma Strallium stretch mark cream is applied with finger tips, in a circular motion.
Simply massage the cream into your skin, till absorbed twice daily.