Vedic Care 100% Haritaki Powder (Yellow Myrobalan) 100 Grams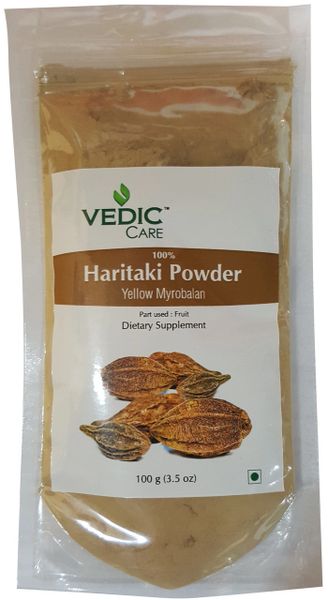 Vedic Care 100% Haritaki Powder (Yellow Myrobalan) 100 Grams
Amla also known as Amalaki (Embelica officinalis) has been used for than 5000 Years. It is one of the three ingredients of Triphala and is an important ingredient to make Chyavanrash. Fruits of Alma are said to contain highly Concentrated antioxidants with gently nourish the tissues and remove the toxins making it be Concentrated as a potent rejuvenator. Amla helps promote healthy blood, bone, hair, nails, teeth, hands and eyes. Amla also supports gastrointestinal health and proper bowel movements. Taken with honey Amla Powder is Concentrated to help reduce obesity.
Store in cool dark place and in an air-tight container
Avoid exposure to moisture
Keep out of reach of children
Concentrated to be a natural antioxidant
Help in cleansing & nourishing the bodily tissues
Help remove excess pitta from the body
Help stimulate digestive fire without aggravating pitta
Directions for use:
1/2 to 1 teaspoon with Warm water up to twice daily
Health tip
Our body has an incredible ability to fight off numerous infections and viruses but it starts with a strong immune system. Keep your immunity high and enjoy a healthier lifestyle.
Manufactured By: Vedic Care, USA
Country of Origin: Product of USA
Product Weight: 100 Grams
Storage Instruction: Keep in cool and dry place.
Package: Packed