Vedic Care 100% Karela Powder (Dietary Supplement) 3.5 OZ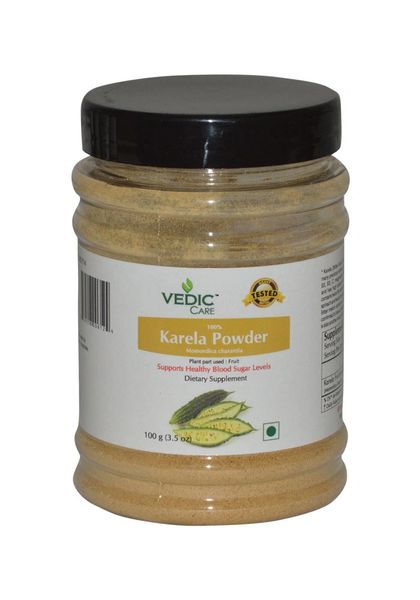 Vedic Care 100% Karela Powder (Dietary Supplement) 3.5 OZ
Karela (bitter Gourd) is a low-calorie vegetable that is rich in many precious nutrients. It is an excellent source of vitamins B1, B2, B3, C. magnesium, folate, zinc, phosphorus, manganese, and has high dietary fiber. It is considered to be rich in iron & contains twice the beta.carotene of broccoli, twice the calcium of spinach and twice the potassium of a banana.
Bitter melon contains a unique phytoconstituent that has been confirmed to have a hypoglycemic active called charantin. Thre is also another insulin-like compund known as polypeptide P. Supports healthy blood sugar levels.
Considered to have hypoglycemic properties
Considered to have digestive properties
May help maintain cholesterol within normal range
Store in cool dark place and in an air-tight container
Avoid exposure to moisture
Keep out of reach of children
Directions for use: 1/2 to 1 teaspoon with warm water up to thrice daily
Health Tip: Relax. you deserve it, and it takes less time than your think meditate. a few minutes per day and your ease anxiety. Take a 5 minutes break and breath deeply. This slows down the effect of stress!
Plant part used: Fruit
Manufactured By: Vedic Care, USA
Country of Origin: Product of USA
Product Weight: 100 Grams
Storage Instruction: Keep in cool and dry place.
Package: Jar