Vedic Care 100% Neem Powder (Dietary Supplement) 3.5 OZ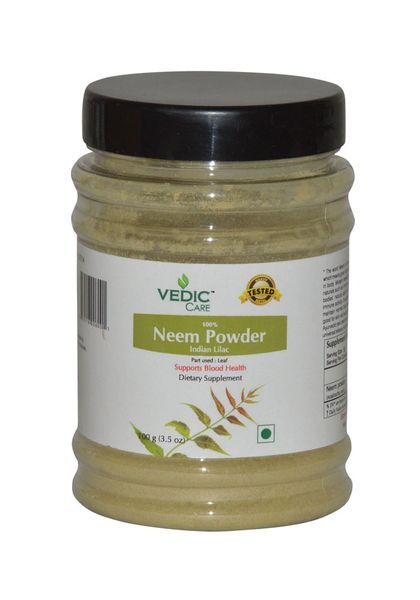 Vedic Care 100% Neem Powder (Dietary Supplement) 3.5 OZ
The word Neem is derived from the Sanskrit word "Nimb" which means giver of good health. It balances Pitta and Kapha in the body. Modern research shows Neem to contain essential natural such as Nimbin and azadirachtin, which support our bodies`natural ability to purify the blood and boost vital immune activity. It supports detoxification of the liver and helps maintain normal blood sugar levels. It is considered to be good for skin and supports the digestive system. No wonder Ayurvedic text describes it as "Sarva Roga Nivarini" meaning universal reliever of all illnesses.
Store in cool dark place and in an air-tight container
Avoid exposure to moisture
Keep out of reach of children
Supports blood purification
Helps boost body's natural immune system
Supports a healthy blood sugar balance
Helps stimulate body's digestive power
Directions for use: 1/2 teaspoon with Warm water up to twice daily or 1 teaspoon at bedtime
Health tip
Our body has a natural ability to remove the buildup of toxins. An easy method to start removing toxins from your body is to perform some light exercise early in the morning allowing our body to sweat the toxins through the glands. Try jumping up and down 10 times.
Manufactured By: Vedic Care, USA
Country of Origin: Product of USA
Product Weight: 100 Grams
Storage Instruction: Keep in cool and dry place.
Package: Jar