Vedic Care 100% Shatavari Powder (Dietary supplement) 3.5 OZ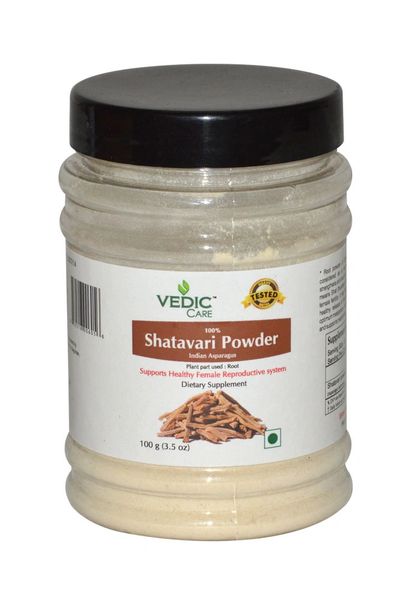 Vedic Care 100% Shatavari Powder (Dietary supplement) 3.5 OZ
Shatavari Powder, Supports Healthy Female Reproductive System
Root powder of Shatavari (Asparagus recemosus) is considered as a rejuvenating and nutritive herb that strengthens and nourishes the tissues abilities. In Sanskrit, Shatavari means Shat (hundred) Var (spouse) Implying to its role in female fertility. it may help improve lactation in mothers by a healthy production of female hormones and helps maintain optimum metabolism. It helps in the healthy production of semen and supports male fertility.
Store in cool dark place and in an air-tight container
Avoid exposure to moisture
Keep out of reach of children
Considered as a rejuvenating herb which nourishes, cools & strengthens the body fo bath men & women
Supports a healthy female reproductive system, healthy lactation & promotes balance in female physiology
Directions for use: 1/2 to 1 teaspoon with Warm water up to twice daily
Health tip: Exercising daily, Meditation & Pranayam can promote healthy & normal hormonal balance in the body Asanas like Shalabhasana, Pavanmuktasana, Butterfly pose are good for the Reproductive system, Pranayamas like anulom vilom, Kapalbhati are also good.
Manufactured By: Vedic Care, USA
Country of Origin: Product of USA
Product Weight: 100 Grams
Storage Instruction: Keep in cool and dry place.
Package: Jar