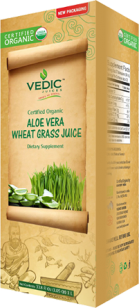 Wheat Grass in Aloe Vera
This Wheat Grass juice is a unique combination of Wheat Grass Juice suspended in Aloe Vera Juice making the stability and nutrient structure of Wheat Grass juice readily available to the body.
This method of consuming Wheat Grass Juice is the next best thing to freshly squeezed Wheat Grass Juice in a very convenient form. You will love the taste and enjoy all the health benefits associated with the wonders of Aloe Vera and Wheat Grass - in ONE convenient dose!